Other are smooth, EFAFLEX are effortless
It's a fact that the transportation and storage industry have more incidents and accidents involving workplace vehicles than any other sector. Warehouse and logistics clients operate in an environment that continually expects shorter and shorter delivery lead times, while finding ways to improve and streamline processes to add profit to the 'bottom line.'
Consider too that incidents not only can cause injuries to people, but they can result in unwanted costly downtime, which can have an unexpected knock-on effect that ripples throughout the production facility.
How EFAFLEX can help the warehouse & logistics industry?
Take an aerial view of a warehouse or logistics facility. You might see loading bays where goods arrive and depart, production lines where produce is assembled or manufactured, and temperature- controlled areas where goods are stored in specific conditions. Add in machinery, operatives, and produce. This is an environment that is familiar to EFAFLEX.
We have considered every aspect of the facility, each with its specific requirements or potential hazards and designed a high-speed door solution to match. It means that EFAFLEX can supply a bespoke range of doors tailored to you from one manufacturer.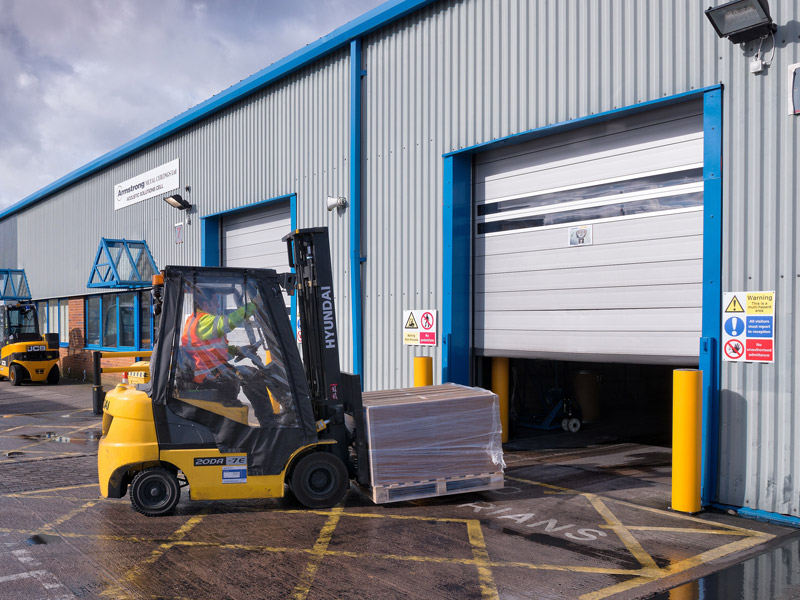 What are the key features of EFAFLEX warehouse & logistics solutions?
EFAFLEX – reducing the risk of workplace incidents and optimising workflow
Facilitating fast and efficient movement of goods. Minimising the risk of incidents. Increasing workflow. Automatic door activation. Safeguarding operatives around high- risk machinery. Temperature controlling storage facilities. Reducing downtime. These are just some of the reasons why EFAFLEX have become the partner of choice for customers operating within the warehouse or logistics sector.
At loading bays and docks where areas are exposed to the elements, fast opening and closing door speeds are essential.
Internally between halls or different zones of production areas temperature control, or air purity may be your key consideration.
Along conveyor lines, or around robotic or hazardous equipment, machine protection may be your concern.
Check out our Products to find a warehouse or logistics solution for you!
The EFAFLEX range has a door solution to suit every aspect. They are all high-speed (opening up to 4 metres per second), they are all high-performance (capable of up to 250,000 operating cycles per year), they are all designed with you in mind.
Take the Spiral range (S Series) which includes a range of doors all featuring the unique circular winding mechanism that was the first of its kind in the industry. It's been copied but not matched for performance.
The Fabric Roll up range (R Series) which features a range of fabric door models that are exceptional allrounders offering excellent price-performance ratios. They are ideal for internal areas or for hall closings.
The Folding range (F series) that open vertically; the robust and economical option offering full clearance height with standard sizes up to 8 metres x 6 metres.
Our range of fast, safe, reliable high-speed doors will undoubtedly be an asset to your warehouse or logistics environment.
Check out our Products to find a warehouse & logistics solution for you!