High-speed spiral doors.
The original and still the best.
It may be difficult to imagine, but the warehouse spiral door mechanism was designed by EFAFLEX over 25 years ago. Since then it has been copied by many, but remains unrivalled for industrial door speed, and durability. It is the world's fastest vertically opening warehouse door, with operating speeds up to 4 metres per second.
The range combines a unique blend of features and benefits, making it the high-speed door of choice across a wide variety of industry sectors including manufacturing, warehousing, car parking as well as applications including cleanroom and deep freeze.
It's super speedy door opening, minimises exposure, whether that's to the elements if used as an exterior industrial door, or between zones to improve airtightness as in cleanroom and manufacturing applications.
Some of the unique features include the EFA-THERM® laths – the individual panels used to construct the warehouse door blade which can deliver exceptional heat insulation of between 0.66 and 1.52 W/m²K.
Check out the commercial doors recommended for your industry sector or get in touch to discuss your project.

Unique EFAFLEX spiral Design

Fastest opening speeds – up to 4 meters per second

Exceptional sound and heat insulation

Colour match options available

High performance – up to 250,000 operating cycles per year
Warehouse Spiral Doors For Your Sector
Whether you operate within the food, beverage, or manufacturing industry, regardless if your key driver is safety, air purity, or speed of logistics (or frankly all of these), here at EFAFLEX we have a bespoke industrial door solution to match your needs.
Click on your industry sector below to find out more and understand how EFAFLEX can help improve your user safety, reduce your energy consumption, and drive performance improvements.
Industrial Spiral Door Range
The spiral warehouse door design – speedy, smooth and virtually silent!
Superior in every way, the original design from EFAFLEX remains the world's fastest vertically opening industrial high-speed door. It's unique spiral construction ensures the door opening is super smooth and virtually wear free.
The range includes;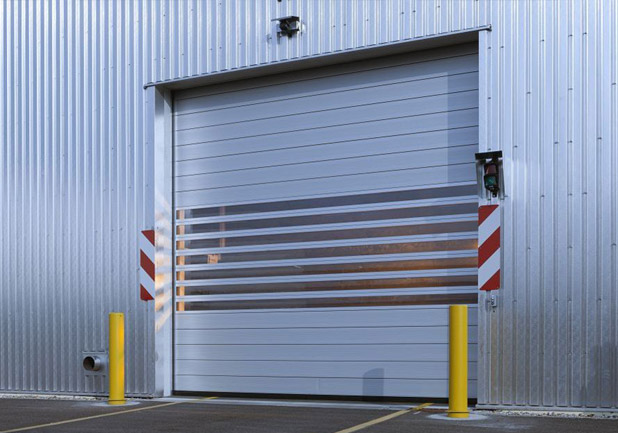 The insulated spiral EFA -SST®
The EFAFLEX classic warehouse door and our most popular. It features thermal insulation laths as standard, opens at 2.5 metres per second, and capable of operating up to 250,000 cycles per year. Standard sizes up to 10 metres x 12 metres.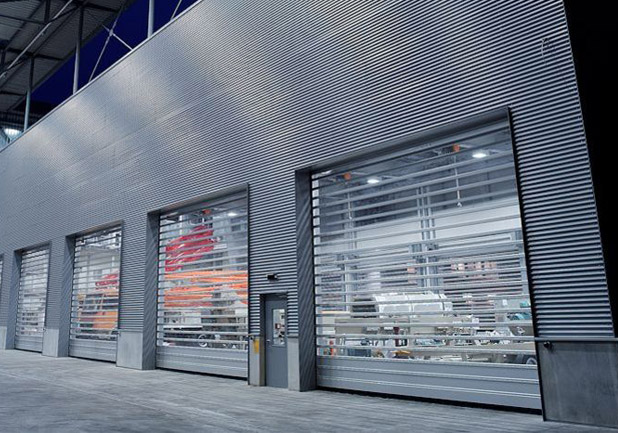 The transparent spiral EFA- STT®
The transparent door leaf that consists of 70% crystal clear acrylic glass. The industrial door opens at 3 metres per second, capable of operating up to 200,000 cycles per year. Standard sizes up to 8 metres x 7.8 metres.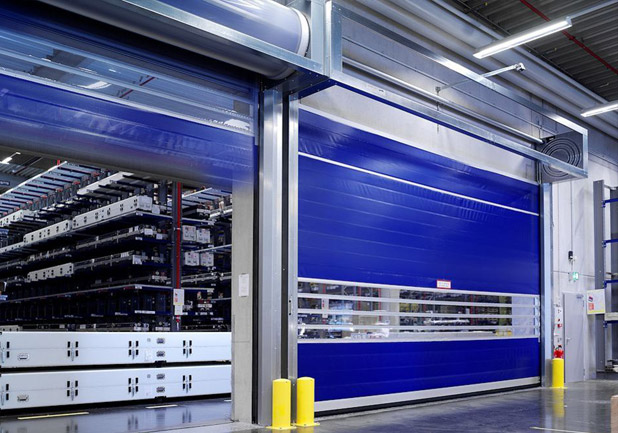 The turbo spiral EFA- STR®
The turbo spiral warehouse door – the world's fastest opening industrial door at up to 4 metres per second, capable of up to 250,000 operating cycles per year. Standard sizes up to 7 metres x 6 metres. A great all-rounder.
The car parking solution (PS Series)
Our car parking door range has been designed to combine space saving construction for use even in the lowest headroom facilities. They offer super speeds to safeguard users and capable of up to 200,000 operating cycles per year. Standard sizes of up to 6.1 metres x 4 metres. Ideal for residential and commercial applications.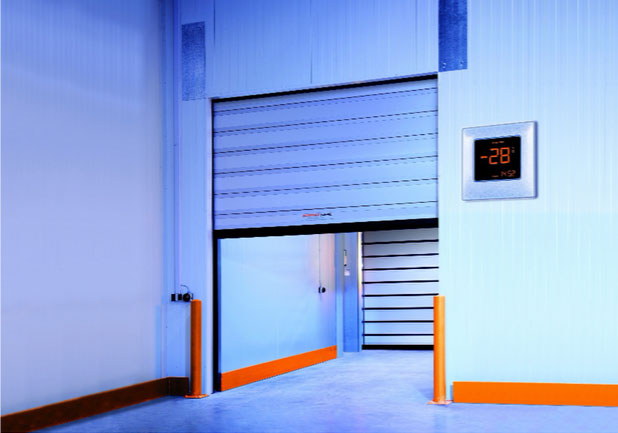 The freezer solution (TK-100)
This virtually hermetically sealed industrial door option is the first truly single door solution for deep freeze areas. It combines the fastest operating speeds with the best insulation properties for warehouse spiral doors. It offers the highest U value 0.62 W/m²k, capable of 200,000 operating cycles per year and standard sizes up to 4 metres x 6 metres.
The Efficient (EFA-SST® Efficient)
Space saving and springless this warehouse high-speed door has been designed for installations of restricted or limited dimensions. Classified to Resistance Class WK2, it doubles as an intruder resistant door. Operating up to 150,000 cycles per year and standard sizes up to 4 metres x 5.13 metres.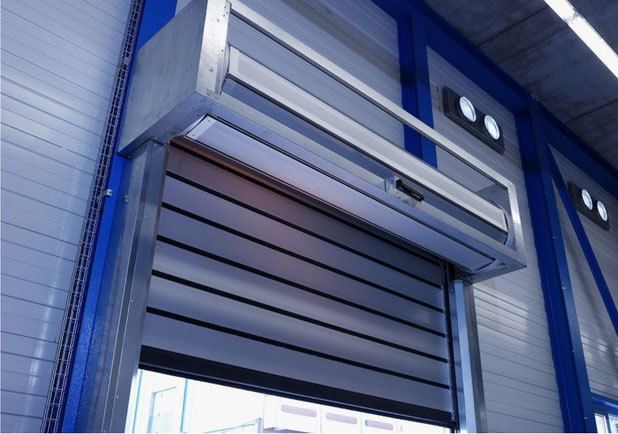 The unique EFAFLEX spiral warehouse door design, copied but unequalled.
Copied a thousand times – but still unequalled. It's hard to believe that the spiral design was introduced over 25 years ago, since which time many have tried to replicate the speed, and performance, but it remains unequalled. The door leaf is wound on to a shaft and kept in a space-saving manner. This function guarantees a number of unique advantages: highest opening speed, long service life and efficiency – perfect!
This isn't just an industrial roller shutter door, it is an EFAFLEX high-speed industrial door.
Oval spiral and low headers
If you are limited for head height, then no problem. We can tailor the spiral mechanism to suit; the circular spiral is standard and offers the fastest industrial door opening speeds, but where head height is restricted or limited, then the oval spiral takes less space while the low header is ideal for the most limited, such as car parking entrances.
Unique, innovative safety features
As you'd expect, not only are our industrial shutter doors designed bespoke to your application, so too is the method with which you choose to open them.
Some opt for a remote-control mechanism which can trigger the door to open on approach from the comfort of a forklift truck cab. Others prefer a more automated systems such as our laser scanner (EFA-SCAN®), which was the first of its kind to be incorporated into warehouse door systems. Those that operate within hygiene or cleanroom environments, then our latest 'wave' device is ideal. Simply wave you hand in front of the mechanism for a touch free, hygienic opening.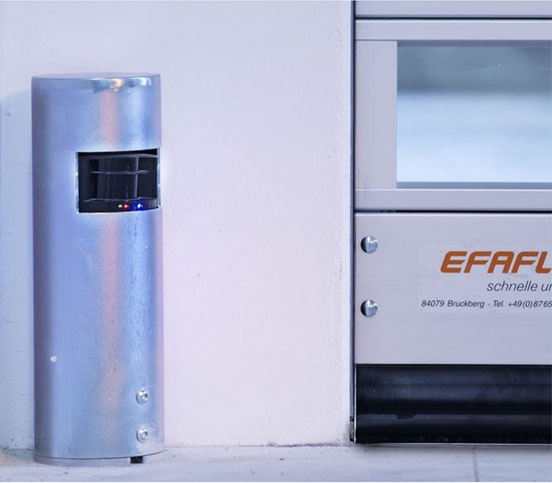 Industrial door opening style for every height
Regardless of the space and height you have available in your warehouse, we have an opening mechanism to suit. Circular spiral gives speed, whilst the oval spiral compensates for restricted space. Lower head height still, then the low header is ideal for you.
Contact EFAFLEX UK for industrial roller shutter doors prices, solutions, and advice.