The reliable, great all-rounder.
Our range of fabric roll up doors (R Series); ideal for a wide variety of applications across numerous industry sectors. They are durable, high performance and differentiate themselves from standard curtain or roll-up doors with their incredible speed.
The R Series – ideal to eliminate draughts, keep temperature zones constant, and minimise contamination; a true all-rounder, economical solution that stands the test of time.
Check out the doors recommended for your industry sector or get in touch to discuss your project.

High-speed opening up to 2 metres per second

Up to 150,000 operating cycles per year

Heavy duty interior door

Cleanroom and hygiene versions available

Excellent price-performance ratio
Fabric Roll-Up Doors For Your Sector
Whether you operate within the food, beverage, or manufacturing industry, regardless if your key driver is safety, air purity, or speed of logistics (or frankly all of these), here at EFAFLEX we have a bespoke solution to match your needs.
Click on your industry sector below to find out more and understand how EFAFLEX can help improve your user safety, reduce your energy consumption, and drive performance improvements.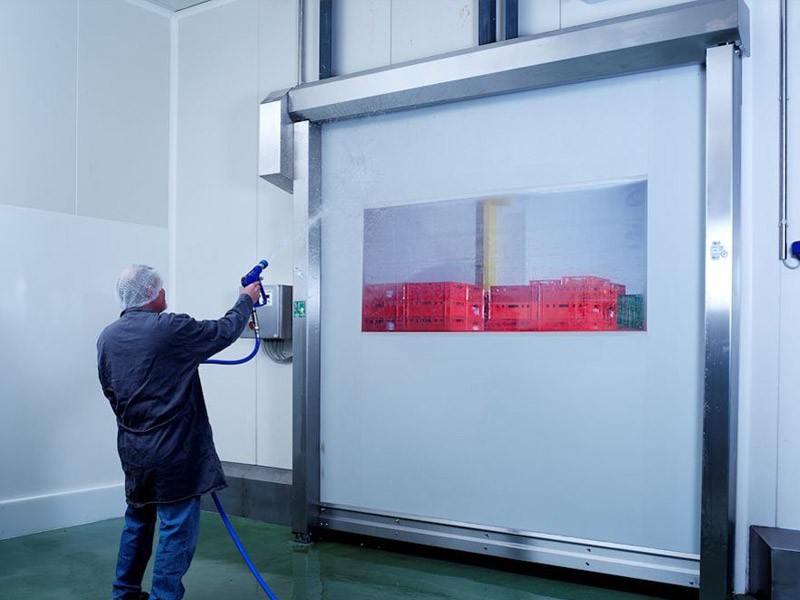 The fabric roll-up door is a versatile product; a great all-rounder that is ideal as an interior door and also as an additional hall closure. The style can be manufactured bespoke to fit your application, including smaller widths for Machine Protection, (along conveyor belts) and Materials Transport and Logistics applications.
The range includes;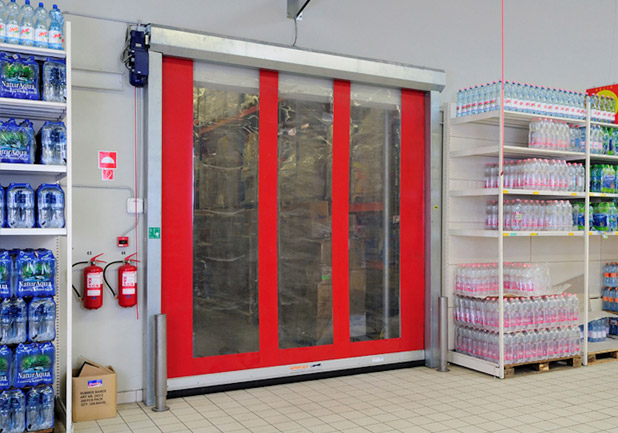 Heavy duty fabric curtain (EFA-SRT®)
A high-speed, heavy duty roll up fabric door. Ideal for interior use, with cleanroom and hygiene versions available.
Opens up to 2 metres per second, capable of up to 150,000 operating cycles per year. Standard sizes up to 6 metres x 6 metres.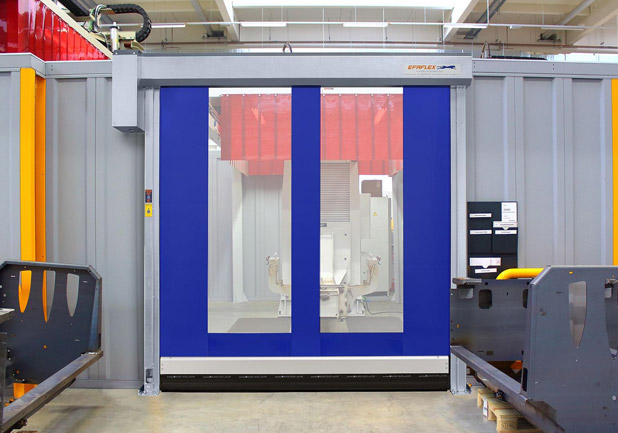 Machine Protection (EFA-SRT® MS)
Its space saving, compact design make this product ideal for machine protection areas. With its transparent door curtain and edged with warning stripes as standard. Available as flame resistant and UV protective windows for welding applications.
Opening speeds up to 1.8 metres per second, capable of up to 250,000 cycles per year and standard sizes up to 5 metres x 3.5 metres.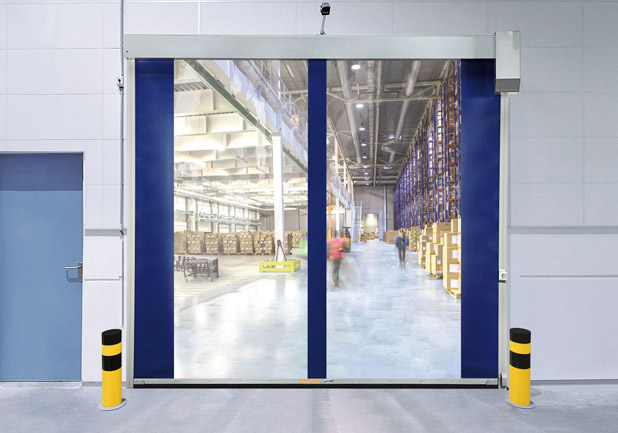 Materials Transport and Logistics (EFA -SRT® MTL)
A versatile design developed specifically for intensive internal industrial logistics processes. Ideal for conveyor belts, confined space applications as either access obstacle or access prevention depending on the nature of the process.
Opening speeds up to 1.5 metres per second, capable of up to 250,000 cycles per year and standard sizes up to 3 metres x 3 meres.
Unique, innovative safety features
As you'd expect, not only are our high-speed doors designed bespoke to your application, so too is the method with which you choose to open them.
Some opt for a remote-control mechanism which can trigger the door to open on approach from the comfort of a forklift truck cab. Others prefer a more automated systems such as our laser scanner (EFA-SCAN®), which was the first of its kind to be incorporated into door systems. Those that operate within hygiene or cleanroom environments, then our latest 'wave' device is ideal. Simply wave you hand in front of the mechanism for a touch free, hygienic opening.