The Folding F Series – the robust and economical vertical option
Not only do we design and install vertically opening doors such as the spiral and fabric roll up, for those installations that require a robust and economical solution, we have the Folding Series.
This is a heavy-duty solution, that combines the typical EFAFLEX advantages including energy saving, exceptional aesthetics, noise and draft reduction to provide good heat and sound insulation.
The folding doors are equipped with a robust pneumatic drive (or electric motor when needed) for speedy opening and can effortlessly achieve a million operating cycles. The door wings are connected using a refined cardan joint and can be operated at the click of a button for remote controlled opening.
Their patented modular structure requires minimal maintenance and fitted without the need for floor tracks to reduce the potential trip hazard.
Check out the doors recommended for your industry sector or get in touch to discuss your project.
Patented modular structure

Super fast opening – up to 2.5 metres per second

Sound and heat insulation (using our EFA-THERM laths as optional)

Wind resistance up to class 4

Bespoke colour matching

Up to 200,000 operating cycles per year
Folding Doors For Your Sector
Loading bays, warehouses, emergency services areas such as fire stations, public services including railway stations, and aircraft hangars – these are just some of the areas where our Folding high-speed doors have been installed.
Combining aesthetics and functionality, they are ideal for either internal or external locations and are easily tailored to your requirements. With pneumatic or electric motors, the door wings constructed of high-quality aluminium open effortlessly!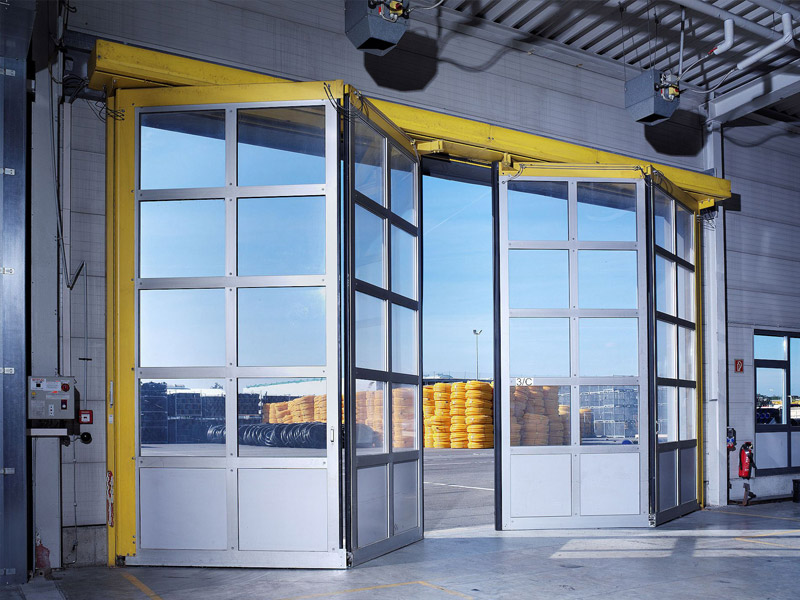 Fast and Robust. The F Series are extremely heavy-duty and mainly used for sealing whole buildings with its modular design requiring minimal maintenance. The anodised corrosion -free door leaf delivers super speedy closings to help minimise exposure and reduce energy costs.
The range includes;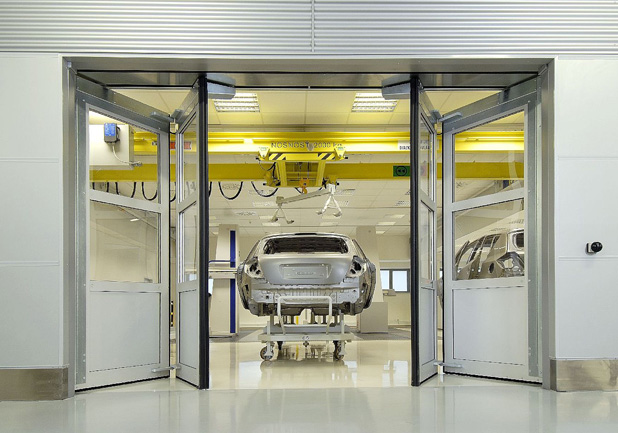 Thermal Folding (EFA-SFT® THERM)
Our latest development uses all of standard folding technology whilst incorporating additional thermal benefits too! Featuring our unique 40mm thick EFA-THERM® laths, they are capable of achieving a heat transfer coefficient of 0.84 W/ m²K. There's even an option to include insulated transparent glazing to optimise both natural light and improve user safety. Capable of up to 150,000 cycles per year and speeds of up to 1.4 metres per second.
Unique, innovative safety features
As you'd expect, not only are our high-speed doors designed bespoke to your application, so too is the method with which you choose to open them.
Some opt for a remote-control mechanism which can trigger the door to open on approach from the comfort of a forklift truck cab. Others prefer a more automated systems such as our laser scanner (EFA-SCAN®), which was the first of its kind to be incorporated into door systems. Those that operate within hygiene or cleanroom environments, then our latest 'wave' device is ideal. Simply wave you hand in front of the mechanism for a touch free, hygienic opening.